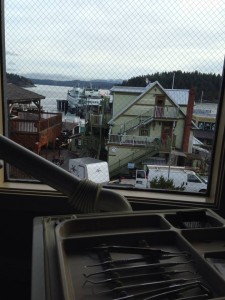 Dr. Ricardo Abramowitz, DDS, rather enjoyed the view from his office window. He had long admired the view of the calm water, the prickly pines in the middle ground, and the low-slung mountains beyond. The clutter in the foreground wore on him: the stilted vacation houses, the candy shop, the gawker-laden cruise ships, all of it.
His patient sat up to spit in the small sink, and something caught Dr. Abramowitz's eye through the glass. It was a girl, young enough to be his granddaughter, sunning herself on a porch.  She was topless, and her impossibly large breasts glistened in the sun.
İAy, ay, ay!" Dr. Ricardo thought.