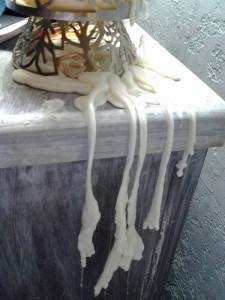 The children leveraged the bench outside and their tiptoes to see the baker at work. They enjoyed watching the thick coils of icing emerge from the zealous tip of his pastry bag and every week they imagined taking turns letting the baker fill their mouths with gooey sweetness.
Of course that dream was never fulfilled, particularly because today the baker lay face-down next to his latest confection, a triple-tiered wedding cake. Gobs of white icing turned slowly pink as they mixed with the growing pool of blood seeping out from underneath his squashed belly.
Fortuitously, the window sill shielded the youngsters' view.
Come on, what does this picture remind you of?