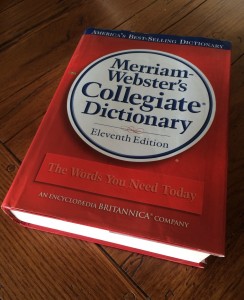 I didn't always know how to use a dictionary.
You'd think I'd have learned earlier than I did. I always liked dictionaries. My mom's tattered old American Heritage dictionary led me to a long flirtation with the brilliantly displayed Oxford American at the library. I can still picture that Oxford glowing under a spotlight on a wood pedestal almost too perfect to touch.
I had a few amazing English teachers in high school – one who loosed Randall Jarrell, Oddyseus, and Shakespeare on me in the same year; another who taught me how to frame an argument; and my favorite, who insisted on last names and demanded nothing less than my best work – but none of them made much of a deal about the dictionary. I left high school wanting to know more about words as much as I needed to.
At college, I studied English with a minor in writing. I felt passionate about words but I still didn't own a dictionary. This was in the mid-90's, before the Internet was a big thing and when books still came on paper. Like any 20-year old, I thought I knew myself.
Junior year I took a poetry-writing class that changed everything. My very favorite professor taught the class. She was older, maybe pushing 70 at the time, and a nun – if you recall, this was a Catholic women's college. But my favorite professor was snappier than the usual nun, and she was smart, in the cool sense. For many years she taught English at a prison. She was bold yet down to earth.
When I began the poetry class, in late August, I was an expert on me. I had breezed through three years of college with almost straight A's. Grades still mattered, a lot. The week before Thanksgiving, I missed a syllable in a metered piece that I read aloud in class. It was a careless mistake and a peek in my nonexistent dictionary would have prevented it. After class, my favorite professor told me I'd never be a poet. By the time I finished the class in mid-December, my voice abandoned me and I began to hate myself.
That mistake wreaked so much havoc on my life that I just have to laugh. I whole-heartedly blame the missing syllable for my first round of grad school rejections, since I foolishly asked my favorite professor to write a letter of recommendation. I sometimes hold onto relationships until long after they are dead. I hold the missing syllable accountable for my selective mutism when I finally did eke my way into a graduate program.
Still, it took another five years for me to land a job as an editor. It took five years of feeling like a fuck up until I stumbled into my new boss's office and saw the dictionary sitting on her desk like the Bible. My boss led by example and was never the type to hold my hand. Instead she handed me a shiny new copy of Webster's 11th and told me to go find myself in it. It wasn't easy but I wanted to impress her, so I did it.
I'm still not a poet. But I am an editor.