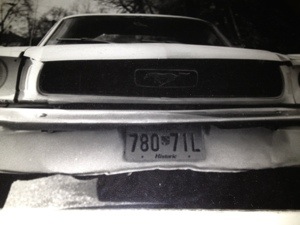 Crossing the parking lot with you, I see it before I recognize it. I'm not a car girl, so it's easily the oldest car that I've ever laid eyes on. It's rusty white.
You are beaming. This is your moment. A vintage '66 Mustang and a date with your long-lost girl? What more could make your dreams come true?
You want me to get into this? I think. Is it safe? I wonder. I am so clueless on the coolness factor.
You, bursting, hold the door open for me, help me into the worn vinyl bucket seat. That old car smell, so evocative, sears into my memory. That smell, it's you. The you who could be anything, the you who could do everything, the you that I knew so long ago and did not yet know.
To you, this is your moment in the sun. This is really, truly it for you. Your last first date. You are shining. And that car, that terrible, awful car, is everything to you. It tells your story writ large and symbolic. You've done it. You're out, you're free. You're an adult, and this car proves it. And my existence here in your car proves it. So I settle into my bucket seat and hold on for the ride.