Nate woke me. "Guh mornin, Momma." He stood by the bedside, smiling, reaching for me.
"Good morning, sweetie," I answered. I closed my eyes again for just a minute, bracing myself. Then I climbed out of bed and slid my feet into my slippers. The window framed one of those heavy gray skies that show up in December and stick around until March, sometimes April.
I bounced down the stairs so the kids would know I'm happy to see them. Anna sat at the table gently tilting her new labyrinth game. "Mommy, I made it to 35!" she called.
"Cool!" I answered, hugging her.
I headed for the kitchen, searching for breakfast, coffee, more children. Both boys were heading down the back staircase, and Gabe grabbed Nate at the bottom for a hug and a kiss. That doesn't happen every day. Next, Gabe came over and hugged me.
"Good morning, sweet boy," I said and rubbed his super short hair. Nate wrapped his arms around me from the back.
From over by the coffee pot, Geoff turned and laughed. "Nate, did you just kiss Mommy's tush?"
"Yeah," he answered.
That's when I knew it would be a good day.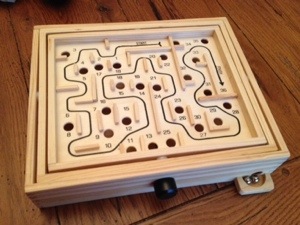 This week's Trifecta Challenge includes the word tush. With three little kids, that's everyday jargon at our house.