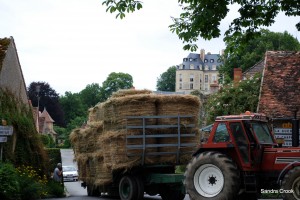 She hid her children deep within the bales of hay on the truckbed and watched the laborers as they drove off, up the rutted roads. Inside the walls of the community, the workers lifted heavy bale after heavy bale, all the while wondering at the tiny squeaks eking out now and then.
Mice, they thought.
When one tall, dark laborer at last reached the children's cubby, the squeaks had long since quieted. He wailed when he saw their thin faces, and unwound their small bodies from their brightly colored blankets.
Sad—true—but at least they had found a better life, he thought as he lifted his shovel.