Ooh, I got Editor's Pick this week over at Yeah Write. I think that means that I'm doing this right. Thanks so much, guys!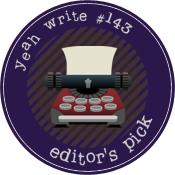 I think the photograph is from my sixth birthday, when I wore my tuxedo swimsuit and sat on my new Strawberry Shortcake bicycle ready to learn to ride. My kindergarten friends are in it, the ones who I carpooled with and played with at recess. My neighborhood friends are there too, lined up on the same hill that we would sled down in winter. You're there too.
When I think back to when I first started to love you, I think it began that day, in the moment the picture was taken. It's just a coincidence that the photograph exists, like the photo that your grandma caught of your first steps. The photograph is beside the point. If it did not exist, I would still remember the moment, just as your grandma would clearly remember your first steps. Even without the photo, I would still love you.
My mom wanted to take a group shot of all the kids at the party. The good little Catholic school kids ran to the hill first and sat in a line, me in the middle. The neighborhood kids followed, not to be outdone. But you, you didn't listen. Looking back on it, knowing how six-year-olds can be, you most likely felt shy. But my mom insisted that you get in the picture. All the other kids were already lined up, so you ran behind the line, right behind me, and you stood there covering your face. My mom snapped the photograph and I started to love you.
It was just a moment, and I don't remember exactly what happened before or afterwards. I'm sure there was cake and presents, but it hardly matters. The best thing about my sixth birthday party was you. It never crossed my mind at the time that you hid your face because you were shy. No, you covered your face because you were cool. You surprised me and you showed me how to be different.
Now that we've been married for a while, I know that sometimes you are shy. When you're in an unfamiliar group, I can feel your urge to press your hands to your face the same way that you did at my sixth birthday party. But I also know that more often you are cool, that you are not afraid to stand up and do something silly just because you want to. More often, you show me your fun, quirky side.
Whenever I see you like that, you, that boy on the hill, I love you a little more. I know that I am cool too. I know that being with you means that I can do anything and be anyone who I want to, no matter what anyone else thinks. Then I'm glad that my mom took that photograph as proof.