I don't want to freak you out, but there was a time that I used to store dead bodies down there.
Not just any bodies, don't worry. And not so many, only three.
I live in an old house with a full-height cellar. In the last few years, we've had the basement waterproofed and finished. Now it's colorful and neat, and you'd never suspect what it used to be like.
But that cellar was once dark, damp, and irrational. It held an ancient hulk of a furnace and a solitary toilet standing in one corner. Pipes snaked over the ceiling. Our cellar used to be frightening.
When we moved into this house, we brought the cremated remains of our first dog, Theo. We had trouble letting go, so we stashed his little wooden box in the cellar on the pantry shelf.
A few months later, my mom died, and we jokingly set her remains on the shelf next to Theo's. Theo would guard her, we rationalized, until we could find the appropriate time to scatter their ashes.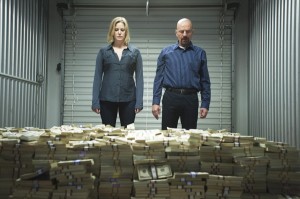 Several months passed and I hired a company to clean out my mom's storage locker. You know, the sort that Walt and Skyler used to store their cash. Late one afternoon, I got a call from the owner of the company.
"Ma'am, I have something important here," I think the gentleman said.
"Yes?" I asked.
"Do you know Dorothy B–?"
"Yes, she was my grandmother," I said, still not catching on.
"Well, ma'am, I have her remains here," the owner cleared his throat uncomfortably.
Of course I laughed. It had been three months since my mom had died unexpectedly, and just three weeks since I had learned the horrible truth about Mike the used-car salesman. Of course Mike the used-car salesman had stashed my Bubbie's remains in the storage locker and pocketed the cash that he was supposed to use to hire a boat and scatter her ashes. It was perfect and all I could do was laugh.
The nice gentleman from the estate liquidation company overnighted Bubbie's ashes and I put her on the shelf with Theo and took to letting the laundry pile up.
When Mother's Day finally rolled around again, we took a trip to the lake and set everyone free. Soon after that, we hired a basement contractor to hide the evidence.