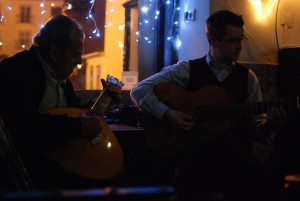 Friday night I had a craving for music and headed over to a little blues bar I know. I pushed through the smoke tendrils and oozing music and took a seat behind a gorgeous blonde in a backless dress. I signaled to the waitress for a whiskey and settled in. The music was good, the view better. I loosened my tie, sat back, and followed the velvet texture, the curves and hollows, the rifts and swellings. As the golden strands caught in the dim light and set after set unfurled, I found my composure.
When she turned around, I beckoned.
100 words for Friday Fictioneers.