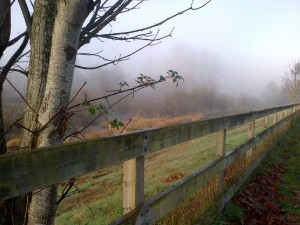 Even now, even after so very many years have passed, so long after the fact, I can still recall how that fence branched out before me on that isolated stretch of road. I can still recall how I abandoned my broken down car, how I made my way obediently home while admiring the details of the rough hewn boards, and how I found myself disappointed in the obscurity up ahead.
Nothing else: not your hand on my shoulder, not you tearing my dress, not you ripping me open. Only that fence disappearing into fog.
So, what does this fence remind you of? Let's hear it over at the Friday Fictioneers' linkup!