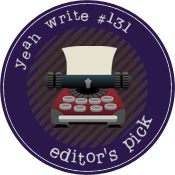 My sister pierced my ears for me. I was nine and I wanted a second set of earrings to go with the eyeliner and blush that I had just begun to wear. She was 27. I sat on a stool in her kitchen, dirty dishes in the sink, an ice cube stinging my earlobes. She used a sewing needle and it hurt. Afterwards, I felt like the coolest fourth grader on earth.
Kim was always an experimenter. Two years after the piercing incident, she taught me to shave my legs in the same kitchen sink, after I begged for the entire summer. A year later, she dyed my dark hair blonde on a whim. Long into high school, she would take me out to the secondhand shops and buy me drapey blouses and tie-dyed t-shirts. She wanted to help me invent myself.
Lately, I've been toying with the idea of getting a tattoo. I want to design it myself, and I want it on my back so it will show when I wear a tank top or a swimsuit. But I'm mixed. Geoff doesn't like tattoos. He thinks they're trashy and distracting. Maybe he's right. It's possible that I would get the tattoo and hate it, dread the sight of it in the mirror, and never be able to wear a sleeveless top again.
I think having a tattoo will remind me of Kim. She got several tattoos, in succession, around the time that she went on drugs. It's funny, but she was about my age at the time, in her mid-thirties. I don't remember what her tattoos looked like, but I guess they were your basic flowers and butterflies, nothing that extreme. Yet her body art starkly coincided with her turn to the dark side. It marked her as a druggie, a petty criminal, an abuser in so many ways. Her tattoos offered visible proof of her badness, and they scared me. I was seventeen, eighteen, and symbols seemed significant.
So I stopped seeing her. And I stopped experimenting. I passed a very difficult few years, where even a haircut felt like too much commitment, and I lived in fear of marking myself in any way. Kim had taught me everything I knew, and look what happened to her.
But – how can I explain this to you? After so many years of denying it, lately I've been thinking about how completely awesome it was to have a sister so much older than me. She was like an aunt, a second mom who taught me how to have fun. Kim was never afraid of messing up. I mean, she should have been, but she wasn't. She tried things just to say that she had. She was bold. Even after watching her life crash and burn around her, I love that about her.