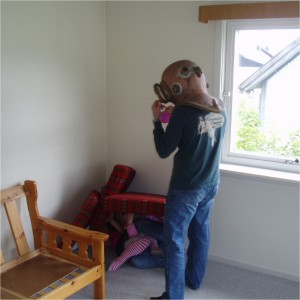 As she stood among the living room displays at Ikea staring at an old-fashioned diving helmet on a shelf, Becca had a memory. It arrived unformed, in an odd stream of shapes and colors. Here the shocking red of the barricades, there a vertical expanse of yellow wood, in the corner pink stripes on little girl legs.
The muted walls faded into invisibility. Looking at several sofas at once, Becca felt pink stripes at her throat and panic clogging her chest.
Becca grabbed her sister's hand. "Let's get out of here," she whispered to avoid attracting attention.