Have you heard about Marissa Mayer's two-page spread in the September issue of Vogue magazine?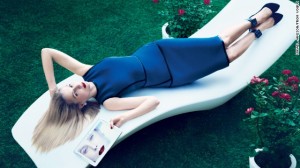 She looks gorgeous, doesn't she? And you know who Marissa Mayer is, right? She's the new CEO of Yahoo!. She also worked her way up the food chain at Google, a self-declared girl geek who says that she just likes to code. Maybe that's true, but she's definitely done a lot more than coding in the past few years. She obsessively helped design Google's front page. She got hired at Yahoo!. She became a mom. Within the year, she posed for the photo above.
I like Marissa Mayer. She challenges herself. She's tough. She demands a lot. Did you hear that she recently reversed Yahoo's work-from-home policy? Maybe that's a little harsh, but she's right there working too. She says that she likes to be in over her head, that when she pushes through that feeling, "something really great happens."
I hope that Marissa Mayer is enjoying all the debate over her photo spread. She strikes me as someone who would. She's earned her place at Yahoo!, fair and square, no one is questioning that. And her commitment to her young family is clear. What I find most impressive about Marissa Mayer is her commitment to herself. It's hard to juggle so much, and it's often hard to enjoy what we've accomplished in the moment. Vogue managed to capture an image of a woman who is unapologetic about celebrating herself. Ladies, we all should follow her lead.