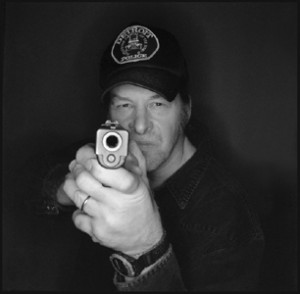 Ted Nugent, I have to admit that I don't know much about you. We don't have a lot in common. I'm not a big fan of classic rock and I don't own a single gun. But I think you made a good point last month with your tirade at President Obama. You got to me, Mr. Nugent.
You called him a subhuman mongrel. I would have chosen a different, less disparaging term, like maybe uncanny hybrid. Yours was richer, though. Yours was more immediate and more emotional. You exploited the specter of race and the cold blunt dagger of Nazism. You scared us. You went on to throw in some astute observations of Chicago politics and you romanticized it all with your reference to those Roaring 20s bad boys, the gangsters.
Mr. Nugent, you were right, you know. Barack Obama showed us all how he operates beyond the boundaries of politics, and he did it from the start of his first campaign for president, when he shamelessly called on us Americans to hope, that four-letter word that just refuses to be pushed down into the mundane. And President Obama continues to refuse to play by the rules. Did you notice how, in the State of the Union Address last month, he laid out his plans to dodge Congress to achieve his goals? President Obama knows how to deftly create his own reality. Like I said, I prefer to spin toward the positive, but we can work with subhuman. At least it gives him space to fly under the radar.
And, Mr. Nugent, you do know that African Americans have long capitalized on the so-called tragic mulatto, right? That mixed-race figure that never quite fits in anywhere can turn its hybrid possibilities into a road map for interracial relations. Not that you are overly concerned with racial relations, Mr. Nugent, but you called it. President Obama is a mixed breed. I'm one, too.
I don't know if you've ever lived in Chicago, but I've lived here for awhile now and surprisingly, I've discovered that this town has driven me away from the far left. All that I can say is, when one party runs things unchecked, bad things happen. This city has an infinite appetite for money, like a ravenous beast gnashing its teeth at us taxpayers, demanding us to fork over its next binge. You're right, Mr. Nugent, there is something soul-crushingly communist about paying for parking on Sundays.
Now, I know that you like guns, Mr. Nugent. And when I see a photo like the one here, I can't help but wonder whether you don't really fancy yourself a bit of a gangster, too. So maybe you speak from experience when you call the president one. Whatever – I'll bet Barack Obama doesn't mind the bad boy moniker.
You're a rock star, Mr. Nugent. You're also multifaceted, just like our president. You're not only a down-home rocker but also a hobbyist, a writer, a speaker, a Christian. You're a real agent provocateur. What made your tirade so powerful was the truth at its core. I know that, you know that, and I'll bet President Obama knows it too.
I think you're on to something here, Mr. Nugent. You got our attention, and even though your friends in Congress made you apologize for it, you got us thinking about how things could be different. But what's next? I'd like to see more of you. Maybe you should run for president.