He's a train conductor.
Dad and Mom stood over my hospital bed, hugging each other, their eyes wet with tears. The day we'd dreamed of had finally arrived. They kept the details vague: A dental student had been hit by a train out in the suburbs, but his heart was feasible. The EMTs already had it on a Medevac. Mom and Dad talked like we had just won a sweepstakes.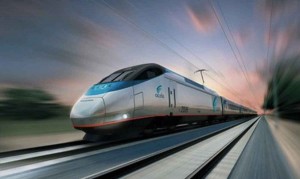 The nurses whisked me off to pre-op faster than a bullet train.
The doctors said I was officially dead for four minutes. Four minutes. Minute one, the head surgeon severed my sick, sluggish heart, with a silver scalpel, carefully so as to leave the aorta intact, the vena cava repairable.
Hell was a high-speed Amtrack. I was standing in the vestibule waiting for my stop, and a conductor snuck up behind me.
"Ticket, Miss," he said without inflection. He was tall, black, and very handsome except for his flat New York accent.
I held out my one-way and he lifted it up to the light and paused with his hole-punch in midair. "You're on the wrong train." He had perfect teeth, so good they looked fake.
"No, I'm not."
Minute two, the kind-eyed nurse lifted my old heart carefully from my gaping chest cavity into a sparkling stainless steel bowl held by the gangly assistant whose Afro strained his sky blue cap. He whisked it away and squirreled it in a jar of formaldehyde. My trophy.
"You wanted Union, how'd you get way out here in Aurora, girl?" The conductor butchered Aurora. "You don't wanta be here. Next train ain't for three hours."
"I'm not. I need to get to class," I said.
"You're going ta be late 'less your classroom's in a cornfield." He laughed a long time like he'd said something funny, but I didn't get it.
I stared at the passing farms, then I turned back and tried to snatch my ticket out of his hand.
He held it up too high for me to reach. "Nah, this old thing won't get you nowhere you need to be," he said, shaking his head from side to side and reaching into his navy blue jacket pocket with his hole-punch hand. "Lemme getchya a new one."
Minute three, nursing assistant number two, an older woman with serious blue eyes, held my pristine and glistening dental student's heart at the ready and passed it delicately to the surgeon, who took a long look at the organ, holy grail of the surgery chamber, and deciphered its tubes and cavities.
"You tryin' a get downtown, right. Ya need the Loop." The conductor didn't ask. This wasn't a conversation. He was in charge, the fucker. The train was barreling down the tracks, probably over a hundred miles an hour now, too fast. Faster than trains could ever possibly go. The fields were reduced to black and white lines.
"I can help ya out, girl," he said and pulled his hand out of his jacket. Instead of a hole punch, he held a silver pistol.
And minute four, my time with the devil winding down, the head surgeon laid my new heart inside my chest and six pairs of hands went to work at once, aligning, whip stitching, stapling, glomming on the hunk of muscle that would pull me back from the dark side.
"This'll getchya right." The conductor pointed the gun at my head.
I added this character twist to my new MC, inspired by a piece by author Patrick W. Gibson. Thanks for the inspiration, Patrick!