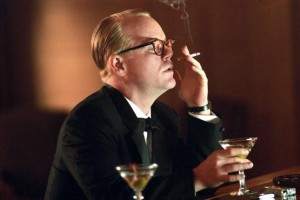 I'm sorry you're dead. I'm going to miss you, you, one of the few actors who really got self-destruction. You always made me believe in the bad in the good and the good in the bad. You always creeped me out.
Mr. Hoffman, if you're up there in ODer's heaven, keep an eye out for my dad. He's funny and you'll like him. He's a youngish-looking fifty-something with white hair and a jaunty fedora. He died seeking that alternate plane of existence that I know you knew so well. He chose the tantalizing promises of a sly lover—alcohol—over the greedy gropings of his little daughter. He died alone, like you.
Mr. Hoffman, I know your secret. Everyone else thinks that you died on your bathroom floor atop a scattered mess of needles and baggies, but I know the truth. No, you died in an elusive, exquisite, and delightful paradise. You died happy.
Mr. Hoffman, I feel like we know each other. May I call you Phil? Phil, this isn't easy to ask. Phil, if you're wandering around ODer's heaven and you bump into a dark and curly-haired, middle-aged former beauty, Phil, will you please tell her that I love her? Phil, go ahead and give my sister a hug for me. Tell her that I get it, that I finally understand that infinite draw to the dark side. I finally understand how your soul responds to vice as much as virtue. I get that sometimes you can only find peace on the path to self-destruction. I realize how sin is a long-lost art supply.
Phil, I'm going to miss you, but perhaps one day I'll join you on that alternate plane of existence. I hope that someday I learn to eviscerate and reinvent myself through my art the way that you did. Phil, I admire the way that you lived, and although it terrifies me, I have to commend you on your death as well. You never failed to surprise me. Maybe someday you'll look for me up there, too.