A month ago I started taking my six-year old to a therapist. He's shy, and with the onset of first grade, he was talking less than ever. Pretty much his only means of communicating with his new teacher was by whispering into her ear.
When the threat of no recess (hers) and even the offer of a new LEGO set (mine) only seemed to make Gabe more anxious, I complained to another mom, who came to the rescue with a therapist recommendation. This isn't the first time I've weighed the possibility of taking one of the kids to a therapist. In the past I've always decided against it, thinking that paying too much attention to the problem would only make it worse. This time, though, Gabe seemed genuinely fraught about going to school, so I called the therapist and Gabe and I have been visiting once a week since.
This week his therapist began with some art therapy. She handed Gabe a sheet of paper and a box of markers, and asked him to draw his worry as if it were an animal or a monster.
Gabe started to draw right away. He drew a devil engulfed in multicolored flames, and even before he finished it I was almost crying. "This is a worry demon," he whispered into my ear. "He talks to me. He tells me he hates me, he's stronger than me, and he'll beat me up if I talk at school."
I nodded, trying to figure out the questions that would help more than harm. While I was choosing my words, the therapist asked Gabe to draw a weapon that he could use against the worry demon. He turned to another page and drew a red and blue rocket. "This is a worry blaster," he whispered triumphantly. "Whenever I talk, it blasts the worry demon into ashes and he DIES," he explained into my ear. "The worry demon's flames set off the rocket," he finished, clearly proud of putting the demon's flames to good use.
Gabe is only six years old. He and the other kids have had a relatively calm childhood so far, and play fighting with his sister and brother is his only actual daily torment. Yet, still, Gabe is living with a demon inside him. He, thankfully, has no idea that mental illness runs rampant on both sides of his family: schizophrenia, bi-polar disorder, and dissociative personality disorder, to name a few. No, thankfully, he has no clue that demons are a thing beyond television and Halloween. Hopefully I can protect him from that harsh reality for a very long time.
Yet something about the way he dove into his drawing, so sure of his worry demon, just breaks my heart. Something about the worry rocket, fueled by his demon's flames, strikes me as uncanny.
The human mind is a mysterious place.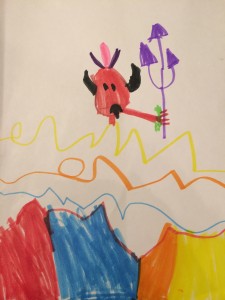 It's been awhile since I posted something personal, I know. This demon thing has really gotten to me.