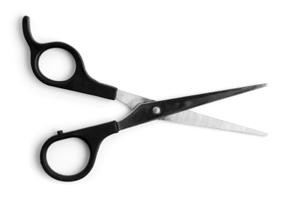 Have I ever mentioned Matt, my hair stylist? He's been cutting my hair for almost ten years. Aside from working magic with scissors, he's intuitive. We have these great conversations that always go deeper, like there's a trapdoor under his styling chair and he can just push a button and flip me down into his own personal underworld. He's into reiki and healing stones, self-improvement and energy drinks. Sometimes he's a little out there, but every single time I get out of his chair, I leave feeling more like myself on the outside and the inside.
Matt's salon closed in January. He promised to get in touch when he found a new salon, but in the meantime, I decided to try out this cute little place near the coffee shop where I write. It's got bookcases and art on the walls, and it's adorable. I was psyched.
But everything went wrong: The stylist ran late, really late. She had bedraggled brown, shoulder-length hair and she wore an outfit that should have sent me running. She hesitated to start cutting my hair, then got carried away and cut it too short. She mumbled incoherent cutting rules to herself as she worked, Swedish chef–fashion. She took cell phone calls while I was in her chair. I left feeling glad to get away.
My haircut wasn't truly horrible, but when I looked in the mirror I could see the new stylist's unkempt hair sort of superimposed over mine like a hologram. It's freaky, but it's almost as if she spilled some of herself out onto my hair.
Fast forward three weeks. Time has worked wonders. I can look in the mirror without seeing her and I can almost pull my hair back into a ponytail again. And it turns out that Matt found a new space just down the street. But I'm still wondering whether this happens in all of our relationships. Do we hijack each other and glom on our own preferences, just to further our own interests? Or do we adopt each other's traits without even realizing it? And if so, what happens to our true selves in the process?
Can you tell I'm still reeling from a shocking citique?